Booking.com6.9
Expedia.nl7.4
Google7.2
From September 4th to October 14th there will be road works on the N786 (Loenenseweg). This may make our hotel more difficult to reach. Apologies for the inconvenience.
Atmospheric hotel in Beekbergen
Welcome to Fletcher Hotel-Restaurant De Wipselberg-Veluwe. The hotel in Beekbergen is uniquely situated in the middle of the Veluwe woods. The hotel rooms are scattered on a hilly terrain of no less than 12 hectares.
Located in the middle of the Veluwe
Gastronomic à la carte restaurant
Official wedding location
Multifunctional meeting rooms

Comfortable and versatile stay
Hotel-Restaurant De Wipselberg-Veluwe is surrounded by the Veluwe woods and situated on a beautiful country estate. Here you can make use of various facilities so you are assured of a comfortable stay. You can enjoy our indoor pool and sauna where you can completely unwind. For those who want to be really active we offer tennis and jeu-de-boules. Furthermore, you can rent e-bikes at the hotel.
Due to its central location in the Netherlands, near the A1 and A50 motorways, the hotel is also the perfect place business meetings, team building and parties. For various occasions the hotel offers suitable arrangements.
Discover the Veluwe
Hotel-Restaurant De Wipselberg-Veluwe offers, in addition to its hotel facilities, plenty of possibilities thanks to its versatile surroundings. Take a trip through the woods of the Veluwe or discover the beautiful nature reserve of National Park De Hoge Veluwe. Besides endless nature, Beekbergen also offers culture and entertainment. For example, the Apenheul and the center of Apeldoorn and Arnhem are located near the hotel. In short: the ideal stay for a night or a weekend in Beekbergen.
Our team welcomes you!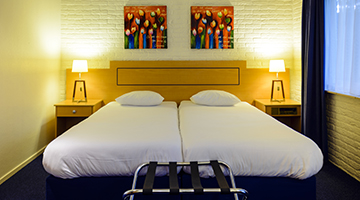 Photos and videos
Would you like to know more before you arrive at our hotel? View the photos and videos of our hotel here.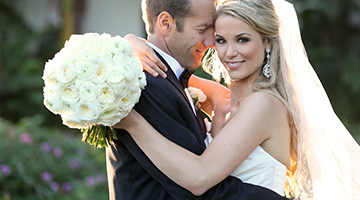 Getting married in style
This hotel is a licensed wedding venue. The gardens of the 100-year-old country house form the perfect backdrop for saying 'I do'.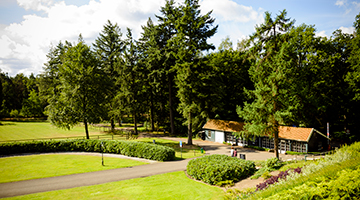 Surroundings
The impressive country estate is situated in the middle of National Park De Veluwe. Perfect for beautiful cycling and walking routes over the vast Veluwe heathlands straight from the hotel.